"Without your magic touch I would undoubtedly still be floundering around in the muck. Not only did you follow through on everything, you proved to be an excellent editor and team player whose suggestions should make it a marketing success." —Arthur C. Murray, The Badass Bureaucrat: A Memoir
Welcome to Seattle Editing, a freelance editing service specializing in fiction, memoir, and self-help books. I often take on other projects too, including newsletters, magazine and journal articles, website copy, and academic essays. Let me introduce myself: I'm Melanie Austin, owner and operator of Seattle Editing. Much of my work is done through email and over the phone, so it doesn't matter where you live. If you happen to be in the greater Seattle area, though, I would be delighted to meet with you in person.
Since launching Seattle Editing in 2006, I have edited dozens of manuscripts for writers and everything from quarterly reports to academic articles to children's books. Recent jobs include self-help books, memoirs, and fiction. Click here for a partial list of published books I have edited.
Seattle Editing's services include coaching, a manuscript critique, developmental editing, content/substantive editing, copyediting, and proofreading. See descriptions of these services here. Don't worry if you aren't sure which service you need. I will help you decide when you take advantage of my free edit and estimate.
What's your preference? Are you looking for a writing coach to help you with your first draft? Are you feeling stuck and unsure of how to get out of your rut? Well, you've come to the right place. I'm an experienced writing coach as well as an editor. I can help you with any difficulties you may be having as you compose your first draft.
Do you need a developmental editor to critique your first draft and help you revise it? A developmental edit and critique will help you improve the structure and content of your book, whether it's fiction or nonfiction. In most cases, it makes good sense to begin the editing process with a developmental edit.
Once you have revised your first draft and received feedback in a writing group or workshop, you'll be ready for content editing and/or copyediting to fine-tune your manuscript.  
After your manuscript has been carefully copyedited, it may only need a final proofreading to prepare it for publication. I recommend that all manuscripts be proofread before they are printed, even when they have been been carefully copyedited in track changes.
If I have already copyedited your manuscript, I recommend hiring a different professional for the final proofreading. If I have not seen your edited manuscript before, however, I would be happy to proofread it.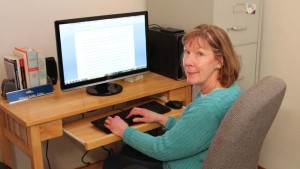 Melanie Austin, freelance editor/owner of Seattle Editing 
Contact me:
Email: seattle_editing@comcast.net
Telephone: (206) 784-7070 (Please leave a message)
Address: 2849 NW 63rd Street, Seattle, WA 98197